GU10 IP65 Deep Fire Rated Minimal Trim
GU10 IP65 Deep Fire Rated Minimal Trim
IP65 architectural fire-rated downlight with deep internal
baffle for GU10 Lamps (Lamp not included)
---
The GU10 IP65 DEEP Fire Rated Minimal Trim is a trimless recessed fire rated IP65 architectural downlight, with a deep internal baffle, Designed to fit a standard GU10 lamp. It sits proud of the ceiling by 3mm and is only 65mm in Diameter so is almost invisible in the ceiling, especially when used with paintable front plates, the luminaire provides visual comfort by reducing the glare.
This product is IP65 rated and is suitable for Zone 1, Zone 2 areas and outside use (see our Guide to IP Ratings). This version is fire-rated to 60-minute (120-minute and non fire-rated versions are available). It is fully interchangeable with any of the products in the Levello range as all of the Levello products fit into the same housing. Luminaires and lamps can be swapped quickly and simply, should the need arise without damaging the ceiling.

Although we recommend Soraa Lamps or our light engines, this product can be used with almost any GU10 lamp as long as the diameter of the front of the lamp is less than 50mm. Ceiling void heights are calculated based on the Soraa lamp which is 53.5 mm high.

Physical Characteristics
Dimensions
Cut out                                          62 mm
Minimum Ceiling Void Depth    115 mm
measured with 53.5 GU10 lamp - Measure you lamp
 Weight
(excluding GU10 Lamp)              233 g
Materials
Housing: Mild steel galvanised & powder coated
Insert: Anodised aluminium
Technical Characteristics
Fire & Insulation
60 Minute Fire Rated
Not suitable for covering with  insulation

     (see insulation covering accessories)
Air Tightness
When used with a Thermahood conforms to 
C2 – Condensation
L1 – Insulation And Air Leakage
E1 – Sound Protection
 Standards & Ratings
BSEN 60958
IP65
Warrantee
5 years (Luminaire parts and materials)
Electrical Characteristics
Connectors
3 Pole
16A screwless
Cable capacity
    4 x 1mm
    2 x 1.5mm
Lamp suitability
25W Halogen
25W LED
Lighting Looking fabulous
Minimal Trim
Arguably one of the most discrete downlights available as it is only 3mm high and the Bezel has a diameter of 65mm

Paintable front plates
With our unique paintable front plate option the front of fitting blends in with the rest of the ceiling and more importantly won't become yellow with ageing unlike other light fittings.

Wide range of accessories
Allowing you to customise not only the look of the light fitting, but also the light coming out of it. Check out our range of baffles, front plates, lenses and filters.

IP65 Rated
This product is suitable for Zone 1, Zone 2 areas and outside use. IP65 means it will withstand jets of water

... simple to use and maintain
Easy maintenance
No spring clips, no complicated twist and lock fixing systems, just simple magnets, pull the insert out and swap the lamp or even change the fitting.
Flexibility
Should you or you client need to change how the space is used , the light fitting can be quickly and easily swapped for one of our other products such as a pendant.

60 Minute Fire Rating
Fire rated to 60 minutes with Levello's unique fire protection system

What's in the box
This product has everything you need to install and fit our product with the exception of the GU10 lamp
First Fix Housing
The Fire Rated Housing (or mounting ring) complete with the supply connector and  installation instructions
GU10 Lampholder and connector
The "plug and play" GU10 Lampholder is pre-wired for your  convenience
Deep insert
The Fire Rated Deep insert is supplied with a spring clip to fix the lamp into the insert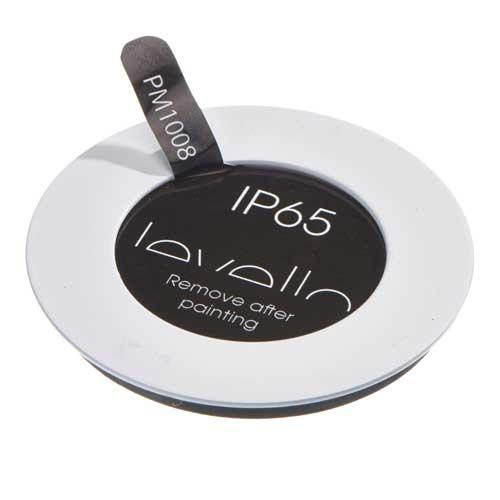 IP65 Front Plate
The IP65 front plate has glass bonded in between one of the magnets and the front plate. Paintable versions are available

Magnets
One magnet is supplied (the Levello system requires 3 magnets in total), the other two magnets are fixed to the IP65 plare and the Deep Insert

Decorators Cards
We supply decorators cards to protect the interior of the first fix housing from contamination from paint or plaster
5 Year Warrantee
Levello products come with a 5 year warrantee
First Fix Installation
Installation is simple and quick.
A reasonably accurate 62mm hole needs to be cut in the ceiling, our Holesaw Stabaliser is ideal for this. The supply cable is terminated to the connector and then the housing is inserted into the hole, twisting it clockwise to allow Housing anchors to lock into place. 
If painting after the housing has been installed please use the Painting cards provided to protect the inside of the housing from contamination Installation Guide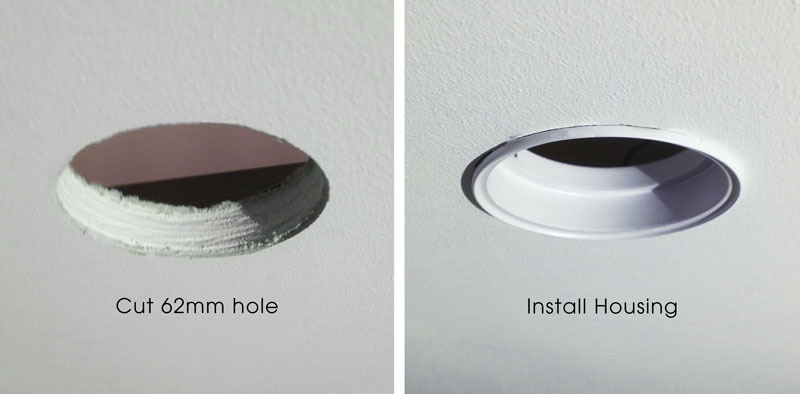 Lenses & Filters-t

None

or

Add Lenses

Baffle-t

Black

or

White

or

Custom

Plate Finish-t

Paintable

or

RAL 9010

or

Special Plate